Regular price
Sale price
$75.00 USD
Unit price
per
Sale
Sold out
Share
About The Painting:
The energies and color chakra pieces are a subset from "The Boy In The Box" series. Commencing upon the precipice of homelessness, "The Boy In The Box" follows the rigid geometric structuring of the "The Up-Side Of Down" and represents the perpetual quest for personal freedom and breaking outside of the box.
All of the paintings from my April/May 2012 artist residency with Alexander Salazar Fine Art were named after the strangers I encountered and interacted with on the streets of Downtown San Diego. For 50 days, I literally became "The Boy In The Box" as I worked, on public display, from this little box on Broadway. 
"Hidensique" was named after a quiet and elusive man that I noticed passing by day after day during my first week. He would always slow as he passed, but keep moving without stopping or coming in. He would just watch from the window, as many did, not wanting to intrude. After establishing that same pattern the first handful of days, he popped his head in around the end of the week and asked if he could share something. He introduced himself as Enrique and was always carrying a staff with him. It was an easy way to recognize him considering my head was buried in my work 12-15 hours a day. He told me that my work had stopped him in his tracks and really spoke to him, inspiring him to write a poem the night before. Though he did not want to show his face, he offered to share that poem on one of the videos documenting my experience. I named "Hidensique" after Enrique. It's an abstract composite of his name and the game "Hide-and-Seek" because of his elusive nature. 
Most of these strangers passing by and interacting with me had no idea that they were my creative inspiration and were becoming pieces of my work during my residency. Because Enrique passed by almost daily, he had a chance to see the painting he inspired before my time ended as "The Boy In The Box." It brought him to tears. We kept in touch for a brief period after my residency, but as just as he did during my residency, he eventually faded into the distance and disappeared. I know he's still out there somewhere, probably still watching my work progress from a new window.
CONTACT ME FOR ORIGINAL AND CUSTOM ORDERS & UPGRADES
Original 36in x 36in: SOLD
Standard Canvas Features:
Gallery quality canvas print displays vibrant artwork that is built to last. Printed with HP Latex Inks that are fade resistant. Inks are water based and solvent free so rest assured there are no harsh chemicals in your home. Assembled with 3/4" thick wood frame and glued wood core stretcher bars.
All canvas prints are wrapped and shipped in fitted packaging
Ready To Hang - Mounting hardware comes attached.
Leveling Bumpers Included - For wall protection.
Semi-Gloss Print - Increased vibrancy of artwork.
Beveled Wood Stretch Bars - Make frame less noticeable on front of canvas.
Industrial Strength Staples - Ensure a tight fit that is sure to last.
View full details
Shipping

Worldwide shipping + FREE shipping on many items. Message to verify shipping on originals.

Payment Plans

Multiple payment plan options available because art should be accessible to everyone.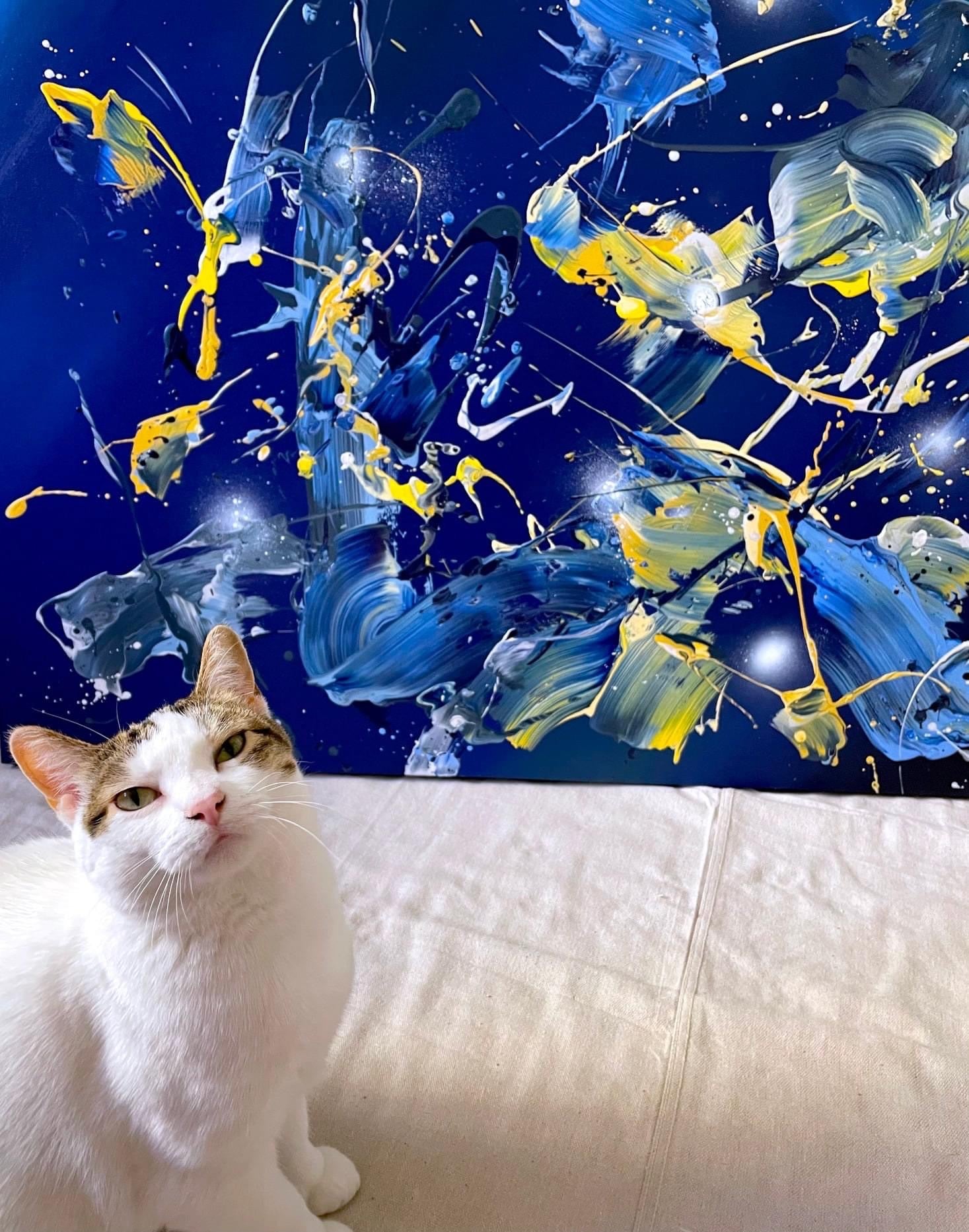 Superstar employee Braska wants to tell you that your support puts food on the table & paint on the palette