Regular price
Sale price
$75.00 USD
Unit price
per
Sale
Sold out
Share
About The Painting:
The "Beautiful Accidents" are based upon the Japanese aesthetic concepts of wabi-sabi and shibui.
The "10 Year Floor Canvas" spans a decade of visions, creations, and more than 10 bodies of work. Within its depths lie the tangible blood, sweat, and tears of this man beneath the paint. It is a deeply textured and layered history in its purest and most raw form. Encompassing hundreds of paintings that paradoxically unite to create one, it is nothing short of an intimate self portrait of myself, the Acrylic Alchemist.
I think this is one of my most special and valuable pieces. For 10 years, paint has dropped beneath my feet and this is the result. There is a piece of every single painting from over a decade in this one piece, essentially making it a collective portfolio of sorts. The energy is raw and palpable. The textures are insane and represent a three dimensional map of my life. I can still pinpoint certain paintings I was working on at certain times and stages of my life, from the bottom and the top, within this painting. Although I generally don't allow people to touch my paintings because of the damage caused by oils from the hands, this is a painting I insist that people touch. It will touch you.
This painting held another unexpected treasure when I rolled it out and discovered the handprints of my best friend and muse, Deanne Hastings, who tragically disappeared in 2015. It is suspected that she was murdered but there has been no closure. Those handprints, from the very last time she visited me, now hover above me and protect me in my studio as I work. It is a way for me to keep Deanne and her beautiful energy alive.
Deanne always called me her "Wings" and is the reason I have them tattooed on my back. I just wish I could have there for her this last time when she really needed me most. I could sense the call was going to come, but it never did, and part of me knew why. I've always felt that I failed her by not being there that last time, though I wanted to be and would have been. I think one of the reasons I work so hard is because of Deanne. I always tried so hard to impress her and make her proud. The last time I saw her, she told me she was. I will forever do whatever I can to keep her spirit alive through my creations. She is now my "Wings" and my angel. I love you Deanne.
Deanne inspired a number of my my best and most personal paintings. I keep reminders of her in my studio, including the last postcard from a tribute exhibition I did for her in 2010 that portrays the very first painting she ever inspired, "Midnight Dancer (Take Me Away)." I will never part with these pieces of her. The remainder of the paintings she inspired were sent to her family for her children to one day have...happy and beautiful memories of their mother.  
Other paintings inspired by Deanne:
Fractured Realities And Dreams Brought To Light
Getting Back To Where I've Never Been (Coeurd'aleuer)
You Called Out For Me And So I Came To You (The Dreamer And The Night Terrors)
On The Broken Road Between Reality And Truth
Chasing The Gate (Searching For Deanne)
Beneath The Wings Of Free Swan (Deanne's Song)
CONTACT ME FOR ORIGINAL AND CUSTOM ORDERS & UPGRADES
Original 56in x 45in: SOLD
Standard Canvas Features:
Gallery quality canvas print displays vibrant artwork that is built to last. Printed with HP Latex Inks that are fade resistant. Inks are water based and solvent free so rest assured there are no harsh chemicals in your home. Assembled with 3/4" thick wood frame and glued wood core stretcher bars.
All canvas prints are wrapped and shipped in fitted packaging
• Ready To Hang - Mounting hardware comes attached.
• Leveling Bumpers Included - For wall protection.
• Semi-Gloss Print - Increased vibrancy of artwork.
• Beveled Wood Stretch Bars - Make frame less noticeable on front of canvas.
• Industrial Strength Staples - Ensure a tight fit that is sure to last.
View full details
Shipping

Worldwide shipping + FREE shipping on many items. Message to verify shipping on originals.

Payment Plans

Multiple payment plan options available because art should be accessible to everyone.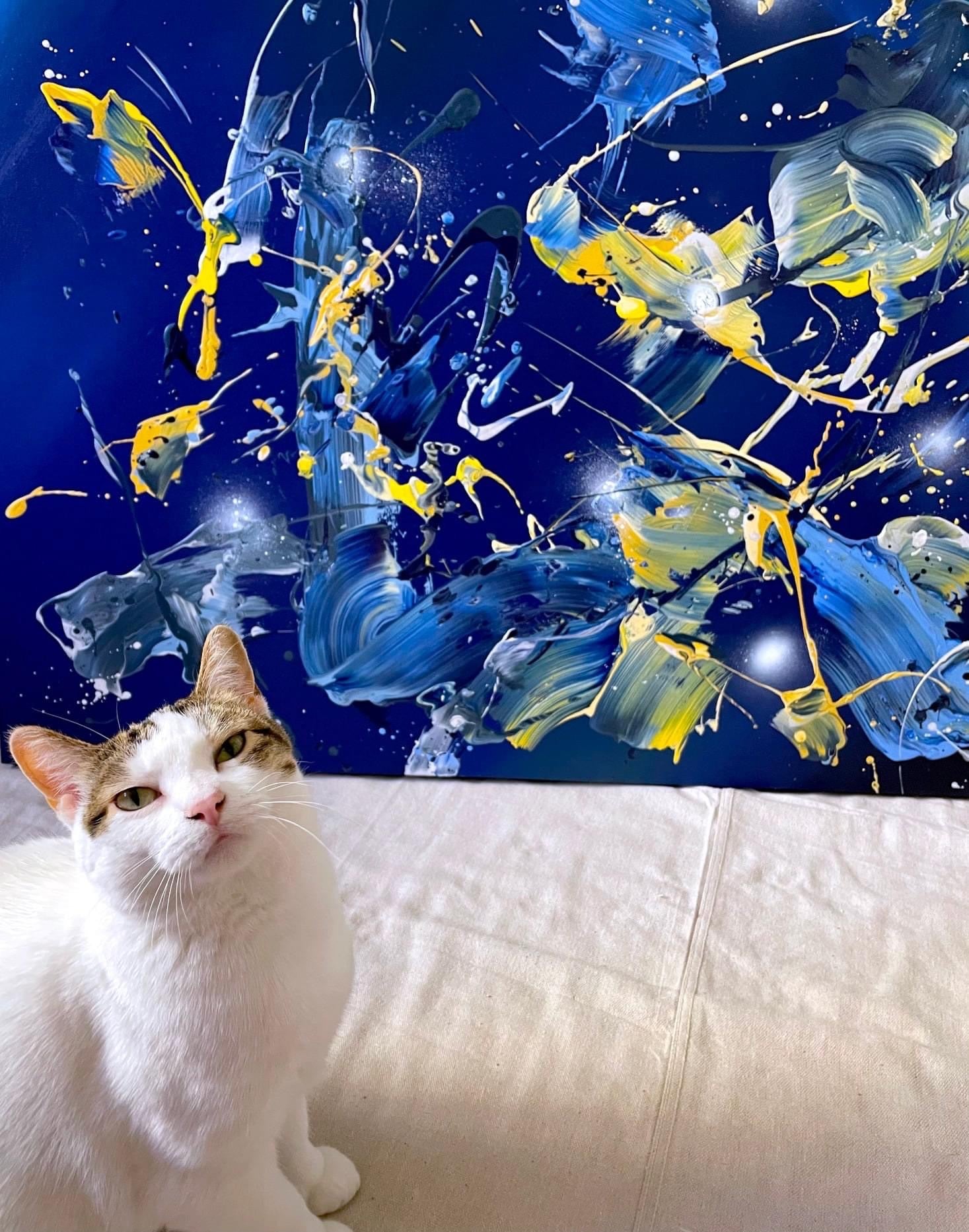 Superstar employee Braska wants to tell you that your support puts food on the table & paint on the palette