Regular price
Sale price
$75.00 USD
Unit price
per
Sale
Sold out
Share
About The Painting:
Commencing upon the precipice of homelessness, "The Boy In The Box" follows the rigid geometric structuring of the "The Up-Side Of Down" and represents the perpetual quest for personal freedom and breaking outside of the box.
"Chasing The Gate (Searching For Deanne)" reflects upon feelings of anxiety, depression, and glimmers of hope as it highlights the disappearance of my best friend and muse, Deanne Hastings, in 2015. It is suspected that she was murdered but there has been no closure to date. This painting depicts a long and arduous quest to find Deanne and meeting her again one day at the gateway of heaven.
Deanne always called me her "Wings" and is the reason I have them tattooed on my back. I just wish I could have there for her this last time when she really needed me most. I could sense the call was going to come, but it never did, and part of me knew why. I've always felt that I failed her by not being there that last time, though I wanted to be and would have been. I think one of the reasons I work so hard is because of Deanne. I always tried so hard to impress her and make her proud. The last time I saw her, she told me she was. I will forever do whatever I can to keep her spirit alive through my creations. She is now my "Wings" and my angel. I love you Deanne.
"The Gate Of Alchemy" or "The Gate Of Truth" is a metaphysical and metaphorical structure and the central point of transmutation in Acrylic Alchemy. I created Acrylic Alchemy based on the principal that if I utilize my pain and struggle to create something positive and beautiful, if I learn to love it, it can no longer hurt me. Learn to master your pain. Don't let it consume you. Embrace the suffering and use your pain for the greater good. There are a lot of people out there that need their "Wings."
Deanne inspired a number of my my best and most personal paintings. I keep reminders of her in my studio, including the last postcard from a tribute exhibition I did for her in 2010 that portrays the very first painting she ever inspired, "Midnight Dancer (Take Me Away)." I also have her handprints from her last visit, which she placed on my "10 Year Floor Canvas," framed and always within view. I will never part with those. The remainder of the paintings she inspired were sent to her family for her children to one day have...happy and beautiful memories of their mother.  
Other paintings inspired by Deanne:
Fractured Realities And Dreams Brought To Light
Getting Back To Where I've Never Been (Coeurd'aleuer)
You Called Out For Me And So I Came To You (The Dreamer And The Night Terrors)
On The Broken Road Between Reality And Truth
CONTACT ME FOR ORIGINAL AND CUSTOM ORDERS & UPGRADES
Original 48in x 36in: SOLD
Standard Canvas Features:
Gallery quality canvas print displays vibrant artwork that is built to last. Printed with HP Latex Inks that are fade resistant. Inks are water based and solvent free so rest assured there are no harsh chemicals in your home. Assembled with 3/4" thick wood frame and glued wood core stretcher bars.
All canvas prints are wrapped and shipped in fitted packaging
• Ready To Hang - Mounting hardware comes attached.
• Leveling Bumpers Included - For wall protection.
• Semi-Gloss Print - Increased vibrancy of artwork.
• Beveled Wood Stretch Bars - Make frame less noticeable on front of canvas.
• Industrial Strength Staples - Ensure a tight fit that is sure to last.
View full details
Shipping

Worldwide shipping + FREE shipping on many items. Message to verify shipping on originals.

Payment Plans

Multiple payment plan options available because art should be accessible to everyone.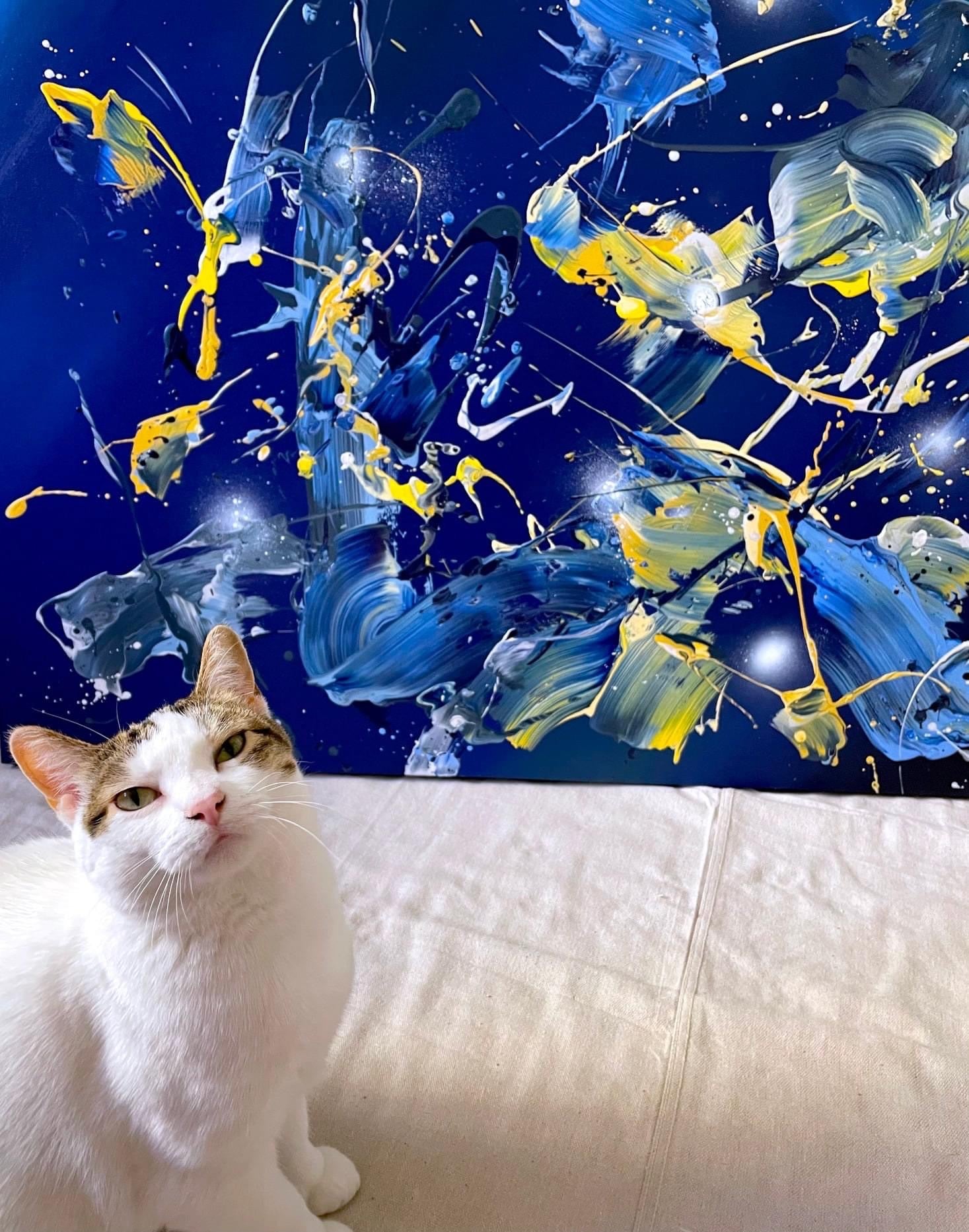 Superstar employee Braska wants to tell you that your support puts food on the table & paint on the palette